Professional liability solutions for professional service providers
Hanover Miscellaneous Professionals Advantage
Hanover Miscellaneous Professionals Advantage helps protect professional service providers against allegations of errors and omissions that can hinder – and even destroy – their business. We deliver comprehensive, affordably-priced coverage with flexibility for you to craft the protection customers need to fit their budget.
Hanover Miscellaneous Professionals Advantage targets a wide range of small, mid-sized and large professional service providers in the following categories:
Consultants
Consultants
Communications
Educational
Energy
Human resources
Management
Marketing
Public relations
Research and development
Telecommunications
Training
Media and creative
Media and creative
Advertising agencies
Broadcasters
Graphic designers
Interior decorators and designers
Market researchers
Publishers
Real estate
Real estate
Agents and brokers
Appraisers
Auctioneers
Green energy auditors
Home inspectors
Lease brokers
Mortgage brokers
Property managers
Other professionals
Other professionals
Arbitrators and mediators
Business associations
Claims adjusters
Employment agents and executive recruiters
Event and meeting planners
Expert witnesses
Forensic analysis (non-medical)
Lobbyists
Medical billing
Payroll services
Private investigator services
Process servers
Record storage and destruction
Translation services
Travel agents
Not in appetite
Construction development
Financial institutions
Manufacturing
Safety/risk management professionals
We designed Hanover Miscellaneous Professionals Advantage to provide a standalone personal liability solution that will stay ahead of the risks of today's dynamic business environment.
Key coverage
Important coverages built-in to our base coverage form include:
Professional services coverage
Personal injury coverage
Privacy and security coverage
Pre-claim assistance
Disciplinary proceedings
Subpoena assistance
Crisis event
Reputation event
Withheld client fee
Nonprofit directors and officers expense
Additional product features
Claims made and reported
Minimum premiums starting at $500
Limits of liability ranging from $100,000 to $10,000,000
Deductible reduction for mediation claim settlement
Extended reporting period options up to five years
Supplemental coverage
Our professional liability enhancement endorsement includes nine supplemental coverages:
Canceled conferences
Counseling support
Emergency web hosting
Pet boarding
Real estate emergency consulting
Replacement of key officers
Temporary meeting space
Travel disruption due to terrorism
Workplace violence counseling
Total account solutions
In addition to our professional liability solution, The Hanover can offer coordinated property, casualty and management liability coverage that your clients need to be fully protected, including
Endorsement options
Not every client will need the broader coverage and increased limits available with a standalone product.
That's why we offer errors and omissions (E&O) endorsement options for select classes of business that can be added on to a Hanover business owner's policy or commercial package policy. 
Contact your underwriter to learn more about our E&O endorsements.
Program solutions
We can develop professional liability programs in any segment where you have either an existing book of business or a chance to grow. We work with retail agents, managing general agents and associations to build specific product solutions for all types of homogeneous groups with similar coverage needs, from start-ups and established programs to small, mid-size and large programs and accounts, including expertise in risk purchasing group formation.

Product not available in CA or NY. Contact your regional distribution director for more information.
Hanover Miscellaneous Professional Advantage protects against the unique risks faced by your clients. Unlock the Hanover advantage. 
Specialized standalone coverage
Serves a wide range of miscellaneous professionals of all sizes, from consultants, real estate, media and creative and other professionals
Privacy and security liability coverage
Built-in coverage related to the mishandling of clients' personal information
Risk management hotline
Staffed by lawyers and claims professionals
More coverage options
Professional liability enhancement endorsement enhances protection with nine supplemental coverage features
Fast and easy quoting
Our TAP Sales quote and issue platform makes it easy to secure a liability solution for small businesses
Customer service center
Helps agencies improve operational efficiency, by servicing miscellaneous professional liability policies for small businesses
Appetite
Hanover Miscellaneous Professionals Advantage targets a wide range of small, mid-sized and large professional service providers in the following categories:
Not in appetite
Construction development
Financial institutions
Manufacturing
Safety/risk management professionals
Product offerings
The Hanover advantage
Quote and issue online
With TAP Sales, you can quickly and easily quote, bind and issue a coverage for a wide range of professional service providers. Our streamlined process allows you to customize the policy with fewer clicks.

This is all backed by our expert underwriters, ready to help with any risks that are complex or outside of the eligibility guidelines below.
Miscellaneous professional liability online quoting appetite
Advertising, marketing and public relations
Beauty
Consulting
Creative design
Employment agents/executive recruiters
Pet services
Miscellaneous business services, e.g. claims adjusters, market researchers, lobbyists, travel agents and more
Eligibility and availability
No claims
Up to $15M in revenue
Not available in NY
Premium indication only in CA
Product details
From $100K to $2M aggregate limit available online (up to $5M with underwriter referral)
Standard miscellaneous professional liability policy form with select endorsements
Standalone product
Admitted policy form
Deductibles ranging from $0 to $10K
Claims-made and reported
Application required to issue
Product resources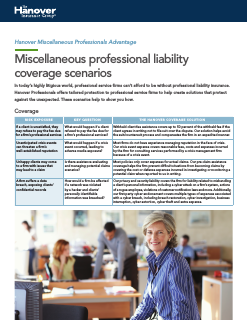 Coverage scenarios
Share this brochure with your clients to help them see how our coverage would respond to a loss event.
Resources for you
Marketing materials
Quote, bind and issue online
We offer flexible training options to help you better understand TAP Sales and all of our online systems and capabilities.

Let's start a conversation today
Contact a member of our team who can help you craft professional and executive lines coverage for your clients.